Houston Lighting
---
Contact:
Samantha Broadway Bryant
ADDRESS:
College Station, Texas
Meet The Team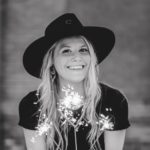 Samantha
Owner
About
BROADWAY BRIDAL is owned by Samantha Broadway Bryant located in College Station, TX. Her products allow couples to add that extra magical spark to their big day! The spirited company is all for creating memorable moments through eye-catching firework displays and wedding sparklers. Couples can truly commemorate their momentous occasion with the help of fireworks and sparklers lighting up the sky.The Daughter of a lifelong fireworks retail & wholesale business owner, Samantha has been mixing weddings and sparklers since she was a young girl. Growing up, Samantha's father was the owner of a successful firework retail and wholesale business. Her father's family business was instrumental in several industry-wide innovations such as the first indoor fireworks warehouses in the US and the co-founding of the Texas Pyrotechnics Association. Samantha brings over 20 years of experience and the same innovation to each and every customer she works with.Samantha decided to carry on his legacy by naming her business BROADWAY BRIDAL to honor her family name and pay tribute to her childhood experiences that lead her to open her business today.