Houston Cakes & Desserts
---
Contact:
Sammy Bertalotto
ADDRESS:
Houston, Texas 77007
Meet The Team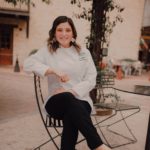 Sammy Bertalotto
Owner & Lead Cake Decorator
About
Based in the Heights, Cakes by Sammy HTX operates under the Texas Food Cottage Law and specialized in delicious and tasteful buttercream cakes. We are passionate about helping you design a unique cake that you will love. Cakes by Sammy HTX started when Sammy graduated with her associates degree in Baking and Pastry from the Culinary Institute of America. After this she decided to pursue her bachelor's degree in Hospitality Business at the University of Houston. While at the University of Houston she continued making cakes as a side-hustle throughout college. After graduating in May 2020 at the height of the COVID-19 Pandemic, she entered an uncertain job market and by the end of 2020 Sammy decided to take her passion full time! As the Owner and Lead Cake Decorator, I take pride in every single part that goes into the planning and making of your wedding cake.
featured in
Trying to figure out the right amount of dessert to order for your wedding isn't always a piece of cake… calculating the right size of wedding cake can be tricky...
CONTINUE READING >