Meet The Team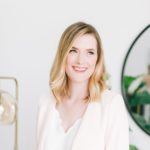 Chassie Anders
Owner + Lead Artist
About
Hello beautiful,I'm Chassie, the owner of Crown of Glory Beauty. First of all, thank you for taking the time to consider our services. Your wedding day is one of the most important days of your life, and that is not something we take lightly. We are here to serve the brides that want to feel like themselves as they walk down the aisle. For the bride that believes hair + makeup can be a reflection of what's in one's heart. For the bride that knows no matter what, at the end of the day, she is marrying her soul mate.We understand your wedding day hair + makeup is an investment and that's why we are committed to providing you with an outstanding experience. Whether you are with Chassie, or one of her professionally trained artists, we feel confident that you will feel heard, comfortable, and beautiful during your time in the chair. We are so excited you want to join us as we empower others through natural beauty.When I'm not helping you get ready, I enjoy watching Lord of the Rings, lake days with my husband, and snuggling with my pup, calypso. While I love an excuse to get dolled up, most days I'm rocking a topknot, yoga pants, and no makeup.
featured in
The world of makeup can be so daunting, and whether or not it's a part of your everyday routine, most brides opt for wedding makeup, either done by themselves or b...
CONTINUE READING >
This elegant coastal wedding inspiration is here just in time for summer, and no matter where you live, your wedding doesn't have to be confined to the themes of l...
CONTINUE READING >
Whether you're a soon-to-be destination bride or just a lover of all things saucy, sandy and sun-drenched, this exotic wedding inspo is what you're searching for! Ta...
CONTINUE READING >