Meet The Team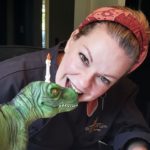 Kellie Herrod
Executive Cake Artisan
About
The Chocolate Llama Cake Company is a Houston, Texas based high-end cake shop. Executive Cake Artisan, Kellie Herrod, specializes in cakes that range from elegant to highly detailed, over the top sculptures. Kellie also prides herself in cooking up new and unique flavor combinations. So, not only are The Chocolate Llama's cakes incredible works of edible art, they taste amazing! Kellie has always been a creative soul. For more than 20 years she helped clients transform their homes with her custom finishes and interior design skills. After making a cake for her niece's 3rd birthday, Kellie knew she wanted to move her creativity to the kitchen. She started baking sugar creations for friends and family and the rest, as they say, is history. When her kids were little, Kellie would read them Is Your Mamma A Llama at bedtime. They've been calling her Llama for more than 25 years now… The Chocolate Llama just fits. We love our clients. Each and every collaboration is incredibly special to us. It's such a blessing to celebrate milestones and joyous occasions every time we create a cake. We know every event is personal and believe planning should be fun. The Chocolate Llama takes the time to make sure your cake tells an extraordinary, sugar story. From bourbon buttercream, to a T-Rex in a tutu, each creation is unique, inside and out.
featured in
Trying to figure out the right amount of dessert to order for your wedding isn't always a piece of cake… calculating the right size of wedding cake can be tricky...
CONTINUE READING >
Planned by Events by Sarah, this timeless black and white wedding features a checkered dance floor that was so classically cool – it even got crowd-surfed on! Car...
CONTINUE READING >