Houston Cakes & Desserts
---
ADDRESS:
Cypress, Texas 77433
Meet The Team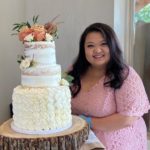 Courtney Nguyen
Owner and Head Baker
About
At The Flour Petal Bakery we combine our love for delicious cakes with gorgeous fresh cut flowers to ensure they are the center of any gathering. Located in Cypress, TX head baker Courtney Nguyen currently operates under Texas Cottage Law and has been baking for as long as she can remember. The Flour Petal Bakery started as a passion project after Courtney graduated from Baylor University and realized her passions had nothing to do with her degree. While she was endlessly job searching like every other new college grad, she used her extra free time to try-out and perfect different recipes. Through word of mouth the momentum grew very quickly, and the next thing she knew, she was booking weddings for complete strangers!We pride ourselves on the highest quality baked goods and excellent customer service.