If pampering yourself for a photo shoot and even bringing your fur family along for the event sounds like an amazing time — you're in luck because we have Westy Peck of Weddings by Westy sharing some must-have engagement photo shoot tips. You'll love her insights about what to wear and how to make sure you're both comfortable in front of the camera.
Westy and her husband Kyle are natural light enthusiasts and love capturing beautiful moments that last a lifetime for their couples. Keep scrolling for all the great deets!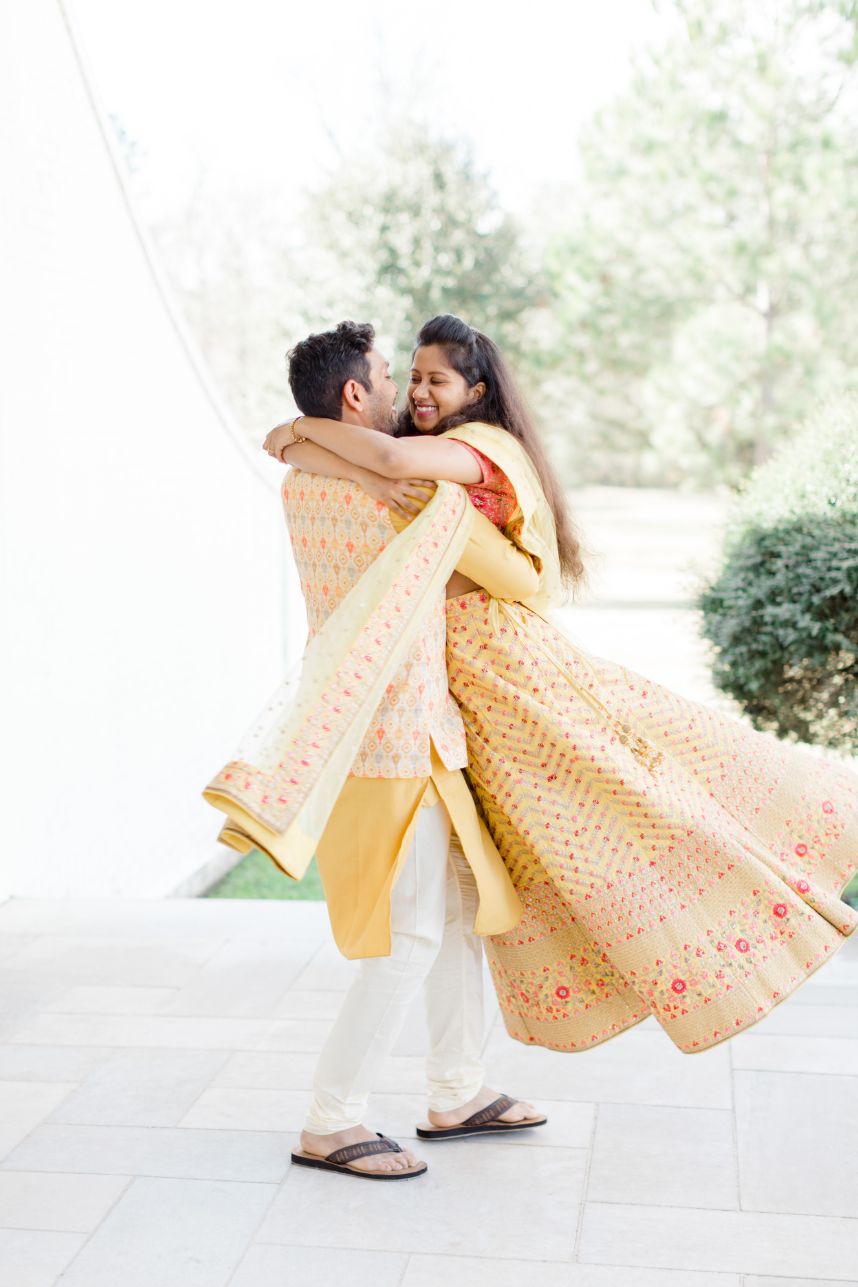 Photo // Weddings by Westy
Where are your favorite places to shoot engagement sessions?
My favorite locations to shoot engagement sessions are anywhere GREEN! I love the dreaminess that strong oak trees and tall grass create in photos. It is natural, raw, and simply gorgeous.
What should couples wear for their engagement photos?
I always encourage my couples to choose outfits they are comfortable and confident in. It only makes the engagement session that much more enjoyable when you can show up, have fun and feel like yourself!
I also suggest at least one outfit to be more formal — a long, flowy maxi skirt or dress for women, plus a nice suit and tie for men. This attire is complementary to all, looks classy and photographs beautifully! Another tip/trick is to stick to neutral or pastel colors. Bright/neon colors will often reflect onto the skin, and no one likes a hot pink face, right?!
Should a bride do her own hair and makeup or have it professionally done for engagement photos?
I would never discourage a bride from having her hair and makeup professionally done for her engagement session! Who doesn't enjoy being primped?! This is a great way to get to know your potential artists for your wedding day!
If you do not typically wear makeup, you can always request a natural look. Professional hair and makeup artists know what looks photograph well, and having it done professionally can boost your confidence which will always be reflected in photos! Of course, this is not a requirement; if you feel content doing your own hair and makeup, then go for it!
How do you get the groom (or bride) comfortable in front of the camera?
We make our sessions FUN!
I have received numerous messages after sessions stating how much they (the bride AND groom) enjoyed their engagement session. We keep it light and natural. I give general directions, but always allow freedom in letting our couples be themselves. If you want to kiss, then kiss! If you just want to twirl around and dance, we will turn on the tunes and embrace the moment! My desire is to capture genuine moments and expressions, which will only happen by allowing you to be YOU.
Are you for or against having the couple's furry fam on set?
I am all about having furry friends join us! I can't imagine not including my own pup. I can never get enough of the wet noses and slobbery kisses — so bring on the farm!
What can a couple do or bring to make the shoot uniquely them?
Make a whole day out of your session! This is your one and only engagement session so make it memorable. Get breakfast together at your favorite coffee shop. Enjoy being pampered as the sweetest hair and make up artists spoil you and make you feel beautiful/confident in your own gorgeous skin.  Go on a date with your soon-to-be husband and talk about all of the special moments in your relationship that have brought you to where you are now. Then, come to your session united as one, fueled by your love and adoration for each other — and ready to have fun together! This is how the "uniquely you" moments are captured! All of the tears, the laughter, the looks of passionate love —we hit pause on these moments with the click of a button for you to remember and hold onto for a lifetime. 
---
A huge thank you to Westy Peck of Weddings by Westy for sharing her wonderful advice for getting the most out of an engagement shoot! To get more details about working with Westy on your engagement and wedding photography, you can contact Weddings by Westy directly through their  Brides of Houston vendor page.