When you hire a wedding photographer, it's important to realize that you're not only paying for images, but for an experience! Houston wedding photographer Sara Abdulaziz knows just how significant this experience is and strives to make the entire wedding process one her clients absolutely love, in addition to their photos, of course! She uses film and digital photography to capture light and airy images for her clients that capture their natural beauty and grace, and she's got a knack for making anyone feel comfortable in front of the camera. Get to know Sara and the passions behind her business below!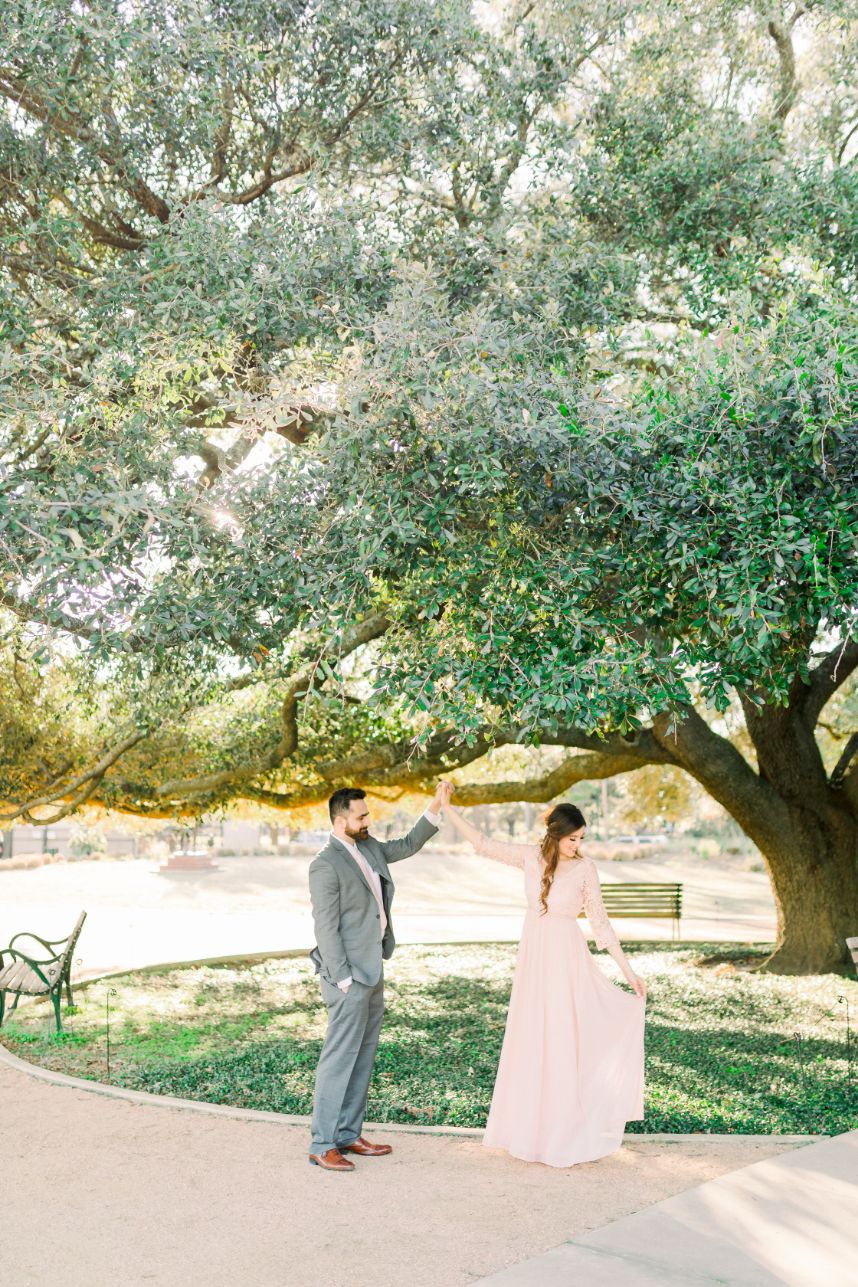 Photo // Sara Abdulaziz Photography
Describe your photography style.
My photography style falls under the large umbrella of "bright and airy." When you look at my images, I want you to feel joy and warmth! For this reason, I consider myself to be a fine art storyteller. I want to be as authentic as possible to the emotions present in the moment. I don't believe in forced posing or artificial lighting which is why I am able to create gorgeous photographs that feel organic and highlight my clients' natural grace. My clients are filled with love, and my job is to portray that feeling through my imagery. If I can bring people back to the moment the photo was taken, then I know I have served my clients well! 
What do you love most about being a photographer?
I love that I get to embrace my passion to serve others, create beautiful images, preserve memories and build connections with incredible individuals! I have truly been blessed to have discovered photography ten years ago, because it gave me the future I never knew I wanted. Every week, I get to work alongside the most talented masterminds of the wedding industry and photograph the most beautiful people, inside and out! It's my job to make you feel pretty and tell you how amazing you are! I'm a professional hype man, and I am loving every minute of it. Plus, I get to eat cake! Who doesn't love cake?! 
What advice do you have for choosing engagement attire?
The best styling advice I can give to couples is to dress it up! There is no such thing as "too dressed up" when you're picking out what to wear to your engagement session. For ladies, I recommend a maxi dress or tulle skirt, basically anything that is, "twirl-friendly!" The key to a perfect outfit is movement and nothing does it better than a stunning long and flowy dress or skirt! For the men, I recommend keeping it classy with a suit and tie. Pick a suit in a shade of gray or navy, whichever pairs best with your partner's attire. If you really want to step it up a notch, switch out your tie for a bowtie! Engagement styling is one of my favorite things to do as a wedding photographer. I go over all this and more with our clients in an exclusive Style Guide. It walks them through finding the perfect outfit for their engagement session.
Are you pro-first looks?
I am pro whatever makes my client happy! Every couple is different, and at the end of the day it is their decision to make. I will say there are more pros than cons when it comes down to first looks. It is this beautiful intimate moment shared between two people. Whether it's a moment shared with a spouse-to-be or parent, no one can deny the incredible presence of love and joy exchanged during a first look. Additionally, first looks provide practical benefits to your wedding day timeline. After a first look, there will be nothing stopping you from getting those full bridal party photos done before the ceremony. By getting some of your portraits done beforehand, the bride and groom are that much closer to heading off to the reception after the ceremony to party with their loved ones! 
Where are your favorite places to shoot? 
I love shooting outdoors! One of my favorite places to photograph (and I am sure my clients will agree) is McGovern Centennial Gardens. From the Rose Garden to the Pergola Walk, there are so many gorgeous backdrops filled with lots of light and greenery. I'm also a huge fan of locations that mean a lot to the couple. We've gone back to places where the couple met for their first date or the spot where they were engaged. It really adds a special, personal touch to the session! 
---
Sara has so many great ideas and wonderful tidbits of advice to share with her clients! Curious about hiring Sara Abdulaziz Photography for your big day? Reach out to her directly through her Brides of Houston vendor profile!
Other Local Vendors:
Sara Abdulaziz Photography