With COVID-19 forcing couples to essentially shrink every aspect of their wedding, from the guest list to the venue and literally everything between, it can be hard to navigate who and what to keep along the way. What are aspects of your wedding you're not willing to give up? Who is that person who could be moved to virtual attendance? What should you do if your venue is no longer able to accommodate your wedding? No need to worry about figuring out all of these questions on your own, as the lovely experts over at
Lillie Jane Designs
have the answers to these questions and more, all featured below! Scroll to read about how to pivot aspects of your grand wedding to a smaller, covid-friendly day – cheers!
(Guest post by Sabrina Lee with Lillie Jane Designs)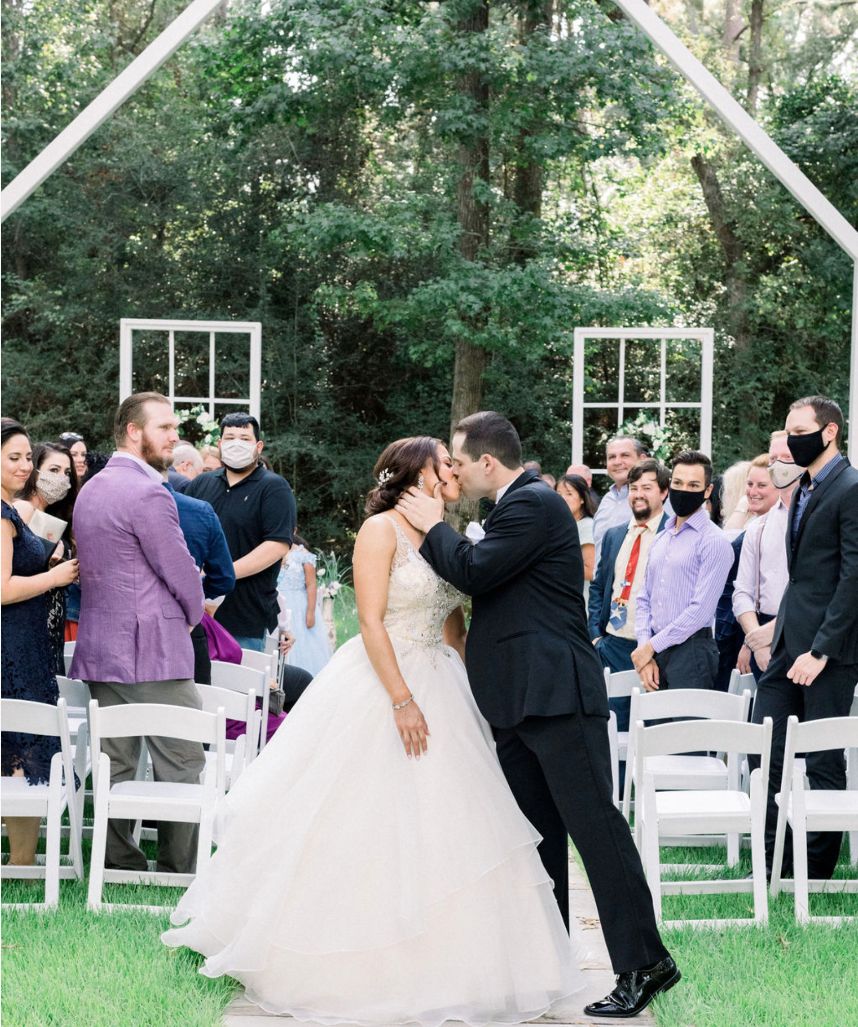 What event sizing demands have been put in place due to the COVID-19 pandemic in the Houston area?
In Texas, we started out at no more than 10 people when we first went into the stay-at-home orders. As the "Open Texas" phases progressed through summer, fall and winter of 2020, we went from 25% to now up to 75% of a wedding venue's (non-church) total occupancy, per Texas's minimum standards health protocols. However, policies are looser for outdoor venues.
What should a couple do if their venue is no longer able to accommodate their wedding?
First, the couple should discuss their options with the venue, including maximum guest counts per the venue's capacity, refunds, postponement/rescheduling availability and the policies explicitly stated in their contract. It's important to understand that venues are trying to follow guidelines imposed by the state – they are not intentionally trying to ruin your plans or cause you stress and heartache. Once the couple has an understanding of potential options, the only thing they can do is weigh them, identify which portion of the wedding is more important to them, and which areas they are willing to compromise on. Is getting married on your original date key to making your wedding special or is being able to celebrate with all of your friends and family more important? Are you going to lose a large lump sum of money you've put into your day by rescheduling or changing venues, or does their refund policy allow you to change dates easily?
What are the first steps a couple should take when having to scale down their wedding?
Review your full guest list together. Who were you inviting that you haven't talked to in over a year? Who is a friend or coworker of your parents, but not that important to you?
Label everyone on your guest list by "must-have," "would love to have" and "not critical." Stay within your max guest count that you have been directed to stay under by the venue.
Research (or ask your wedding planner) about live streaming options and consider inviting part of your guest list as virtual only.
Update your invitees on your changes (if you've already sent out invitations). Try to contact those who you choose to "un-invite" or move to the virtual attendance list directly by phone or email, and absolutely use COVID and your venue as your excuse. Then, update your wedding website with a note explaining that you had to limit your guest count due to COVID policies.
Who should the couple cut from their guest list to accommodate a smaller sized wedding?
Those you haven't talked to in over a year
Coworkers you're not especially friends with
Extended relatives – like those you're only inviting because your parents reminded you they were you fourth cousin twice removed
Plus one's of those who aren't married or whose spouses you don't actually know
Kids – politely request "adults only wedding"
Anyone who isn't actually happy for you and your soon-to-be spouse and your new marriage
Friends of parents who you don't actually know
How should a couple relocate budget dollars for a smaller guest list? Where can they now maximize their budget?
A live streaming option for additional guests to attend online
A gorgeous, floral-filled backdrop for your ceremony and/or sweetheart/head table
Welcome gifts/favors that are COVID-safe – custom masks, hand sanitizer, or individually wrapped desserts
Additional entertainment options to allow more social distancing throughout your wedding and on the dance floor – outdoor games, a photo booth or unique snack or dessert bars (with servers!)
The honeymoon you REALLY want and deserve after planning through a pandemic!
How can couples manage the expectations of friends and family who are more cautious or less cautious? And keep their sanity through it all?
There's no way to make everyone happy. Explain politely (and include in your website) the specific COVID restrictions you're working with, how you plan to keep guests safe at the wedding (i.e., masks required, larger or no dance floor, more tables to allow social distancing), and your expected guest count. Let them know that you understand and respect their concerns, but you are planning for what you think will be safe AND still the beautiful day you hoped for. Then, all you can do is say you would love to have them there to celebrate, but you understand they have to do what is best for them.
Any additional advice on scaling down a wedding?
Don't let the stress of planning your wedding, or replanning with changes you didn't want to have to make, force you to forget why you're getting married in the first place: because you can't live without the truly amazing person you get to spend the rest of your life with! Remember that it is one day and it will still be beautiful because you are getting to marry your love. Take a break from planning when you need it (at least once a week), hire an experienced wedding planner to guide you through the changes and ignore family and friends who won't get out of your ear.
---
Thank you to Sabrina Lee from Lillie Jane Designs for her advice on how to pivot your grand wedding plans to be a smaller size! Visit Lillie Jane Designs's Brides of Houston vendor profile here, where you'll find all of the amazing services her team can provide for your big day!