Whether you headed to the courthouse because 2020 threw all your plans out the window or you've always dreamed of an intimate elopement-style ceremony, an elopement celebration can be the perfect way to get the best of both worlds: married now, partying when you're able. Read on for expert wedding planner Skylar Caitlin of Chancey Charm Weddings' advice on what "part-two" of your wedding should look like.
(guest post by Skylar Caitlin of Chancey Charm Weddings)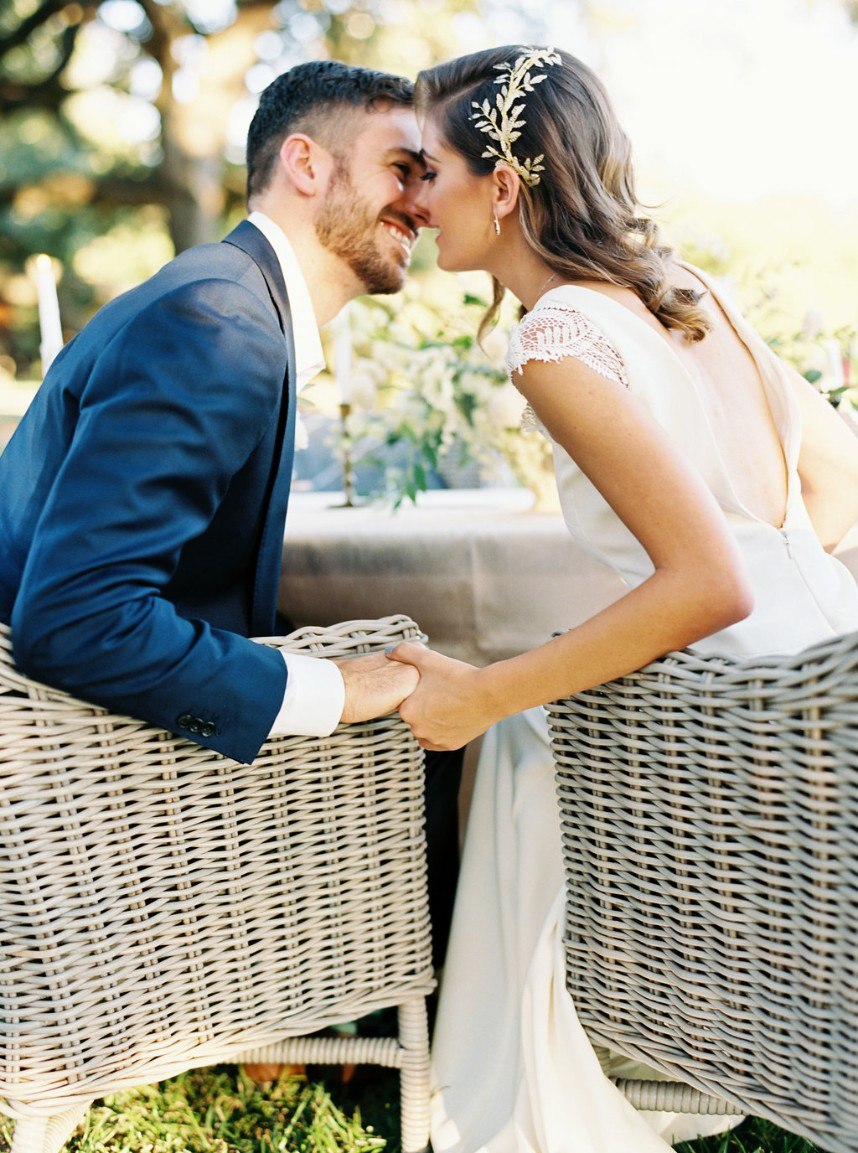 Photo // Courtney Leigh Photography
With close to 100 reschedules across our national team, we've seen our fair share of couples deciding to tie-the-knot in an intimate ceremony while making plans for a larger elopement celebration later down the line. There are many benefits to choosing to host a celebration at a later date beyond guest safety – like feeling less stressed and already enjoying the newlywed glow – but there are some elements to take into account when choosing to have your ceremony and reception on different dates.
Decide if You Want a Recommitment Ceremony
The first decision you'll need to make is whether you want to host a recommitment ceremony or head straight to the celebration. Recommitment ceremonies are a great way for more traditional couples (or couples with more traditional families) to ensure everyone feels included and that you don't have to deal with grumbling at every family gathering to come.
If you aren't into the spotlight, then ditch the vows and greet guests one-on-one at a laid back welcome cocktail hour. But be sure to discuss timeline alterations with your venue and planner. Guests can begin arriving 20-30 minutes before your invitation time. Ensure you, your venue, and, especially, your bar will be ready to receive the early birds.
Skip the Formalities
While we encourage every couple to only incorporate the wedding traditions that resonate with them, an elopement celebration gives you even more flexibility to skip formalities that don't appeal to you or your partner. If special dances, a cake cutting or toasts don't fit your crowd – skip them!
You don't need to follow a traditional wedding reception timeline or style unless that's what you've always dreamed of. Get really personal – what makes a wedding a good party for you? Is it an all-night dance floor? A multi-course meal with wine pairings? A speakeasy-esque lounge with a jazz trio and a secret entrance? (If you said yes to any of these, let's chat – I wanna be your planner.)
If you aren't having an additional ceremony, you'll also have funds that would have gone toward attendant flowers or ceremony decor and signage that you can now reallocate. Maybe you'll splurge on a sweetheart table that wows or that extra horn piece to make your band really fit your vision.
Consider Hiring a Videographer
If you haven't eloped yet, consider selecting a videographer to join your elopement team. Video of your ceremony can be sent to guests not in attendance, added to your wedding website to build anticipation for the celebration, or played at your reception. One of our couples had to downsize last minute in 2020, but kept their videographer on for the day to capture a trailer and their ceremony in full. For their 2021 celebration, we're skipping the recommitment ceremony (and first dance and cake cut since it was captured in the video, too), but will be playing the video of these events for guests to enjoy during dinner service.
Even if you don't play your elopement video at the reception, guests love to see a sneak behind the curtain of your private ceremony. Consider a welcome table full of images from your big day or using them as part of your paper goods sent to guests before the celebration.
---
 Thank you to Skylar for sharing her elopement and post-elopement party tips with us! To connect with the
Chancey Charm Weddings
team directly, visit their Brides of Houston vendor profile
here
. Happy planning!